»Stor-More Key Safe« LETTER combination lock & vestibule for keys STORAGE!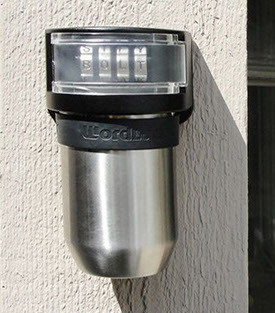 »Stor More Key Safe« The stainless steel bottle key safe offers more space for smart keys, credit cards, or even half of a peanut-butter-and-jelly sandwich for your hungry little student!
Keeping up with the times, WordLock recognizes that keys have changed but key safes have not. So we created an innovative product that will hold the new, larger automotive smart keys in addition to up to 30 standard keys, credit cards, or whatever items you want to lock in an outside safe. We know innovation is the only way to stay current, and that consumers need products that can meet their everyday changing needs. We're always creating better products so you can feel secure and in step with the times.
Two Mounting Options in One Product
No other product on the market offers two mounting options in one safe device. Why not wait until you're home to decide which way you want to mount your WordLock Stor-More Key Safe? It's easy when you have a choice! WordLock brings you the only key safe that offers two mounting options in one product. All other products are EITHER hanging or wall mounting, but with your new Stor-More Key Safe, you have a choice. All the hardware you need to mount the safe to a wall is found inside the key safe, along with a set of easy to follow instructions. Or, if you prefer, you can simply hang the key safe on your door knob, fence, or anywhere, with our vinyl coated, anti-scratch hardened steel shackle.
Product Specifications
8 inches tall, 3 inches wide, 3 inches Deep
Solid aluminum head
Hardened steel shackle of 11mm diameter steel.
Stainless steel bottle with 16 cubic inches of storage space.
3X larger than competitors.
Hangs from doorknob or mounts on wall with screws.
Holds 30 Keys
Holds car smart keys, key fobs, etc.
PRODUCT OVERVIEW